The early morning of Sunday, April 22, 25-year-old  Chikesia Clemons was arrested by White police officers at a Waffle House in Saraland, Alabama. The arrest was captured on video, and it is extremely graphic. Three officers slam her to the floor, expose her breasts and one officer threatens to break her arm. Watch the video below:
SEE ALSO: Calls For Starbucks Boycott After The Company's Weak Apology For A Racist Arrest
According to Canita Adams, the friend who recorded the video, the incident happened after the White woman who took their order said there would be a charge of 50 cents for plastic utensils. Allegedly, Canita and Chikesia were there the day before and there wasn't a charge for plastic utensils. They canceled their order, Canita left and Chikesia stayed behind because she wanted a business card, but the woman called the police. See the Facebook post below: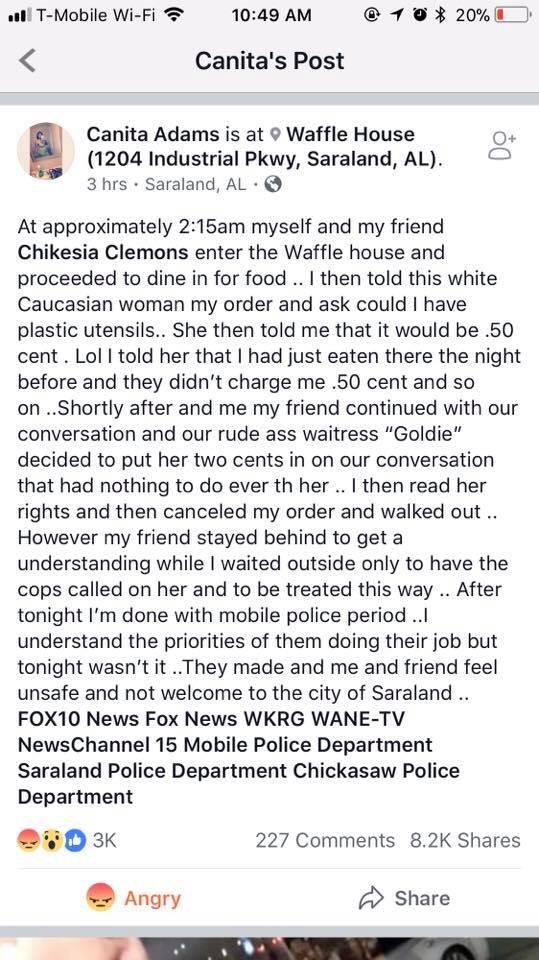 Shortly after the incident, Waffle House responded, quickly taking the side of the police  by saying they "strongly support the actions taken by the Saraland Police Department." According to the Washington Post, the police have now come forward and blamed the violent arrest on Chikesia. "All witnesses confirmed that Clemons and her friends smelled of alcohol and appeared drunk," reports the Post. "One person brought a drink believed to be alcoholic into the restaurant."
They also claim Chikesia threatened to return to the Waffle House and "shoot this place up." However, the police are"not choosing to take any action at this time." As far as the officer threatening to break Chikesia's arm, the police dismissed the threat, which was caught on camera, as "a cause-and-effect statement, rather than a threat."
Canita and Chikesia have not responded to the latest allegations.
SEE ALSO:
Forgive But Don't Forget: Remembering Those Times When Barbara Bush Waded Into The Waters Of Race
Billy Graham's Complicated Relationship With Black America, Explained
Woman Shouts N-Word, Literally Stops The Show At 'Black Panther' NJ Screening
Police Claim Black Woman Violently Arrested At Waffle House Threatened To 'Shoot This Place Up'  was originally published on newsone.com