Amber Guyger, the Dallas police officer who shot and killed 26-year-old Botham Shem Jean in his home on Thursday, September 6, is changing her story more than Sarah Huckabee Sanders at a White House press briefing. Now, random citizens are calling out her lies more than District Attorney Faith Simmons Johnson,  who is a Black woman, or the Texas Rangers, who are reportedly handling the case.
SEE ALSO: Texas Cop Shoots Unarmed Black Man For Entering His Own Truck
Guyger claims she went to the wrong apartment, the door was unlocked, the lights were off, she saw Jean and shot him. For many people, this story has not added up, and now there are reported inconsistencies.
Original reports claimed the door was locked, "When she arrived home, she took the elevator to a floor that was not hers. She then went to what she thought was her door, put the key in and struggled with the lock." However, days later reports from Guyger claimed the door was unlocked and she thought she was entering her apartment because it was dark.
By yesterday, Guyger's affidavit was released, saying that the door was "slightly ajar," which Jean's parents said was implausible. A resident of the building filmed a video showing it is impossible for the door to be ajar.
Watch below:
So how will Guyger changer her story now?
Bothem Shem Jean's funeral is Thursday, September 13 in Dallas, Texas. Our condolences  go out to his friends and family. See the photo below, courtesy of Shomari Stone from NBC DC.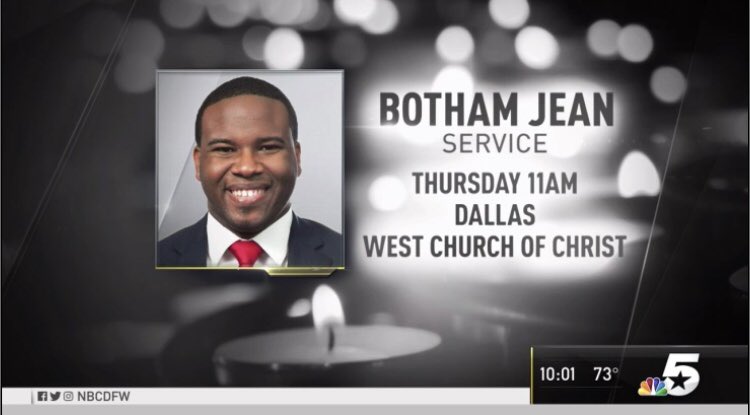 SEE ALSO:
Social Media Says It Has Identified The Dallas Cop Who Shot And Killed A Black Man In His Own Home
Meet Jogger Joe, The Man Who Took Racist Cue From BBQ Becky In Tossing Homeless Man's Clothes
This Colin Kaepernick Retweet Says Everything You Need To Know About The NFL Players' Anthem Grievance
Here's Proof That Amber Guyger Claiming Botham Jean's Door Was 'Ajar' Is A Damn Lie  was originally published on newsone.com