On Saturday, May 26, Donda's House, a charity that was created in 2011 in honor of Kanye West's late mother, released a statement encouraging support of the non-profit despite Yeezy's pro-Trump and anti-Black comments. They also claimed "we have been unable to secure the financial support of Kanye despite multiple attempts, and despite those early conversations about his plan of support and advocacy for the youth in our programs." Rhymefest, who helped create the charity with his wife Donnie White and Kanye, claimed the rapper said "f*ck the youth of Chicago" and even asked Drake, who is currently trading diss tracks with Pusha T and Kanye, to donate $100,000.
Guess who responded to Rhymefest? Not Kanye, Kim Kardashian. And she levied a heavy threat that she would "take" Donda's House. Yep, spoken like a true colonizer.
See Also: Sunken Bros Unite! Ben Carson Defends Kanye And Calls Liberals Racist
The plastic vixen wrote on social media, "You better believe I will make it my mission to take Donda's House from you and let my children run it the way it should be run! @RHYMEFEST" and claimed that her followers didn't know Rhymefest, "Sorry to all of my followers for flooding my timeline I know you have no idea who Rhymefest is." See her insane tweets  below:
Rhymefest, born Che Smith, brilliantly responded with a full statement that read, "I don't care if no one on your timeline knows who I am. The people in my community and in my city do, and that's what truly matters to me. Your husband and I have been in correspondence for the last two months, which as you stated, even you saw me in the studio recently. Kanye asked me if I could come help him with his album again. I was seeking Kanye…he was seeking me. I spoke to your husband about peace, and balance, as well as the work that we have been doing in Chicago regarding Donda's House. He was more interested in his record." See below:
Donda's House also  responded, clearly shocked by Kardashian threatening to colonize their charity organization, which was created years before she laid her rapper-hungry eyes on Kanye.  The charity will no longer use the name Donda's House, Inc.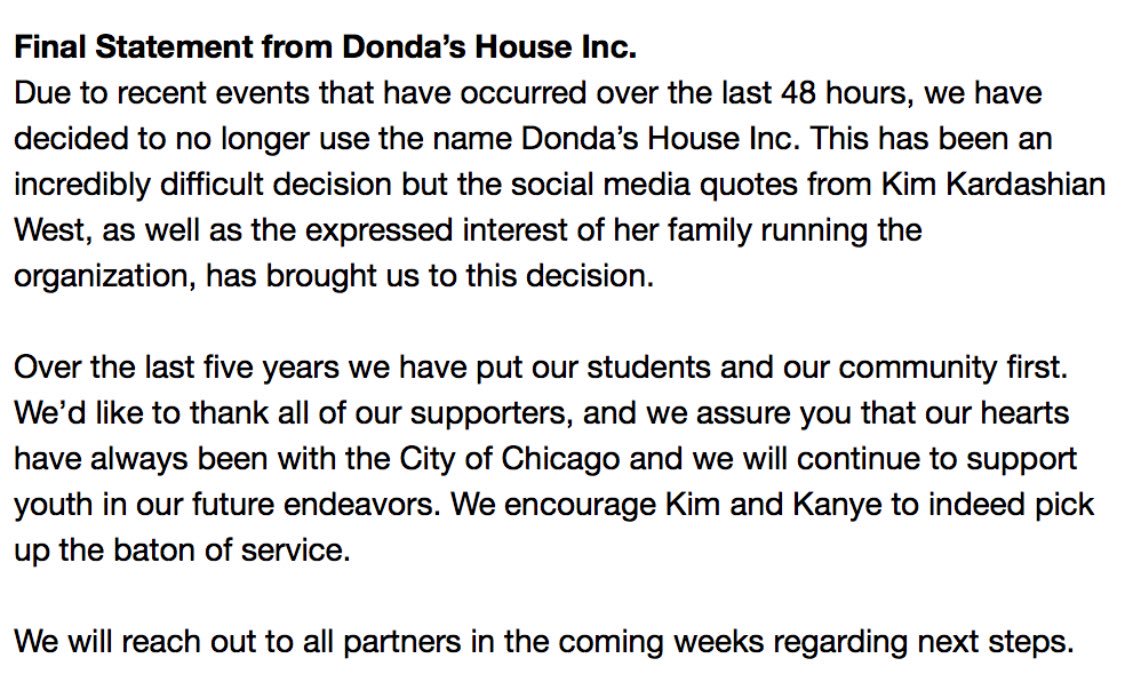 How disgusting that Kim Kardashian decided to insert her Calabasas roots into a situation that had nothing to do with her. For a minute, we were all rooting for her because of her advocacy for Cyntoia Brown and Alice Marie Johnson. Maybe she thinks because she advocated for two women in prison this give her a pass to dismiss Rhymefest's longtime activism in Chicago. As Roland Martin wrote on Twitter, "Please tell me when @kimkardashian has been in the streets of Chicago helping young brothers and sisters like @rhymefest has been?"
What a shame that a charity designed to help young people in Chicago has now gotten absorbed by social media cattiness.
The charity organization, which will soon no longer go by the name of Donda's House Inc., is still asking for help. Its next volunteer meeting is Saturday, June 2. Click here for details. The charity is also asking for social media users to use the hashtag #supportdondashouse if posting about Donda's House Inc. You can donate money here.
Donda West died in 2007 after complications during recovery from plastic surgery.
SEE ALSO:
Everything You Need To Know About The Black Woman Kim Kardashian Is Trying To Get Released From Prison
Billy Graham's Complicated Relationship With Black America, Explained
Kim Kardashian Threatened To Colonize Donda's House And The Charity Responded  was originally published on newsone.com